Network Security Services
$18,000.00 / month
附合「遙距營商計劃 D-Biz」資訊科技方案第十一類 (網絡安全方案) 
Malware and Hack Protection
Zero-Day Exploit Prevention
DDoS Attack MitigationBrute Force Attacks Protection
Virtual Patching and Hardening
Machine Learning
Protected Pages
IP Whitelisting
Application Profiling
Signature Detection
Bad Bot Blocking
Geo Blocking
Website Malware Scanner
SSL Certificate Monitoring
Website Server-Side Scanner
SEO Spam Scanner
Blacklist Status
Website Uptime Monitoring
Description
We provide
7 x 24 hours Firewall, Malware Protect & Management Services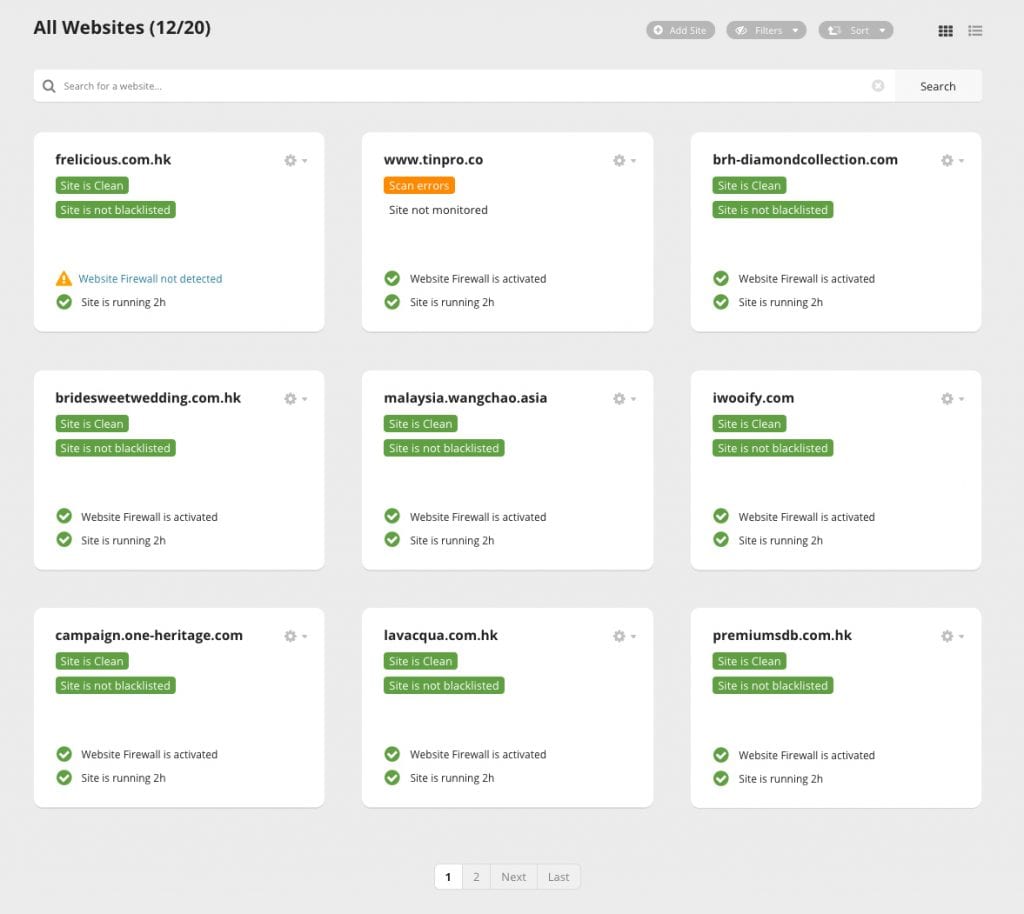 Malware and Hack Protection
We protect your website against malicious code and prevent website hacking with our Web Application Firewall (WAF).
Zero-Day Exploit Prevention
Hackers discover new vulnerabilities every day. We protect sites and stop suspicious behavior. Mitigating new threats rarely requires a patch.
DDoS Attack Mitigation
Distributed Denial of Service (DDoS) attacks can cause downtime. We block layer 3, 4, and 7 DDoS attacks.
Brute Force Attacks Protection
Automated hacker tools target all sites. We stop brute force attacks and password cracking to prevent site abuse.
Virtual Patching and Hardening
If a security patch is released, but you can't update your site, it becomes an easy target for hackers. We constantly update patches and server rules to protect your site.
Machine Learning
Protect your website from emerging security threats. We correlate attack data across our network to better understand malicious behavior and keep your site secure.
Protected Pages
Add another layer of protection to sensitive pages by enabling the Protected Page feature. Add passwords, CAPTCHA, 2FA (via Google Authenticator), or IP whitelisting.
IP Whitelisting
Whitelisted IP addresses ensure that only your team can access website administrative areas. Restrict your admin panels so malicious users don't gain access.
Application Profiling
Each site has its CMS, server software, and other technologies in the stack. We analyze all the traffic to block requests that don't fit your web application's profile.
Signature Detection
All HTTP/HTTPS web traffic is inspected before reaching your server. With heuristic and signature-based techniques, we block malicious requests and attack patterns.
Bad Bot Blocking
When our systems detect a malicious bot or hacker tool trying to attack your site, it is blocked automatically. We protect your site from vulnerability exploitation attempts.
Geo Blocking
Most website attacks come from only a handful of countries. Block all visitors from the top three attack countries with one click or choose which countries to block.
Website Malware Scanner
This scanner monitors for signs of website malware and indicators of compromise (IOC) with our website scanning tools.
SSL Certificate Monitoring
If any changes are made to your website's SSL certificate (HTTPS), receive immediate alerts so you can take action.
Website Server-Side Scanner
We check all files on the server for signs of malware to find backdoors, phishing pages, spam, DDoS scripts, and more.
SEO Spam Scanner
Spam keywords and link injections harm your brand. Discover signs of SEO spam before Google and other search engines do.
Blacklist Status
A blacklisted site loses at least 95% of its traffic. This scanner monitors for security warnings from blacklist authorities.
Website Uptime Monitoring
Websites can go down. It is critical to know when visitors can't access your site so that you can take immediate action.